EDIT MAIN
The Oklahoma Parent Portal is designed to provide students and parents with online access to a student's state assessment scores. This portal will assist a student and his or her parents/guardians with tracking assessment information throughout the student's academic career.
The portal provides scores from the Oklahoma School Testing Program (OSTP) 2016-2017 and 2017-2018 assessments.
Given in grades 3-8, these tests measured knowledge and skills from the new and comprehensive Oklahoma Academic Standards, which were adopted in spring 2016 and first taught and assessed last school year.
Providing a look at how Oklahoma student academic performance compares nationally, the results reflect alignment to critical national benchmarks, including the ACT, SAT and the National Assessment of Educational Progress (NAEP), otherwise known as "the Nation's Report Card."
Parents will now be able to access this information via the Parent Portal through the Measured Progress website. In order to access this information, you will need your student's 10-digit student testing number and date of birth. This is an example of the Parent Portal main page: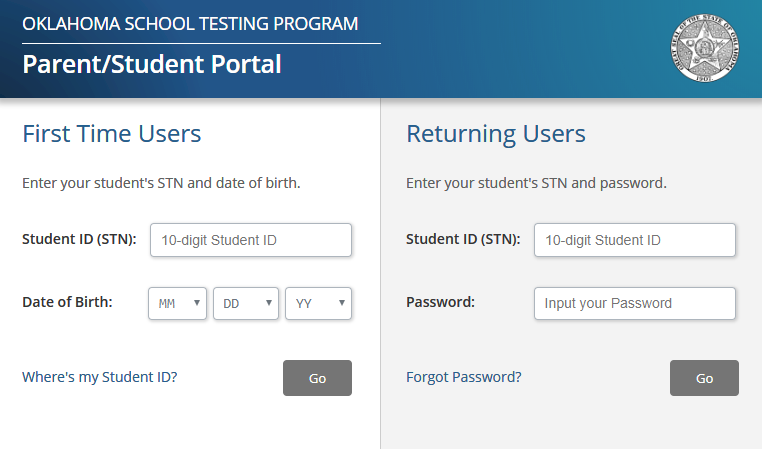 The Parent Interpretation Guide will help you understand the information that is included on that student report. In Spanish, download this Guide to your computer and hover over text in red for translation.
The Parent Portal Resource will explain more about how the scores are used and ways you can help your student. If your student has taken the OSTP anywhere in Oklahoma in previous years, you will be able to view those scores as well.
The Parent Portal Help Guide will assist you with any problems.
More resources can be found on the Help and Support website, including:
Parent Portal Training
Parent Portal Sample Logins
Parent Portal Guide
Parent Portal Overview
Understanding My Student's Score