7th-12th grade info: Senior packets are ready for pick up. All final grades reports and transcripts for 7th - 12th are ready for pick up. Pick up times will be Monday through Friday May 22-26 from 9-2 at the front office.
Summer School: Bus Stops and Times Schedules can be found attached to this post, on our website, and on Facebook.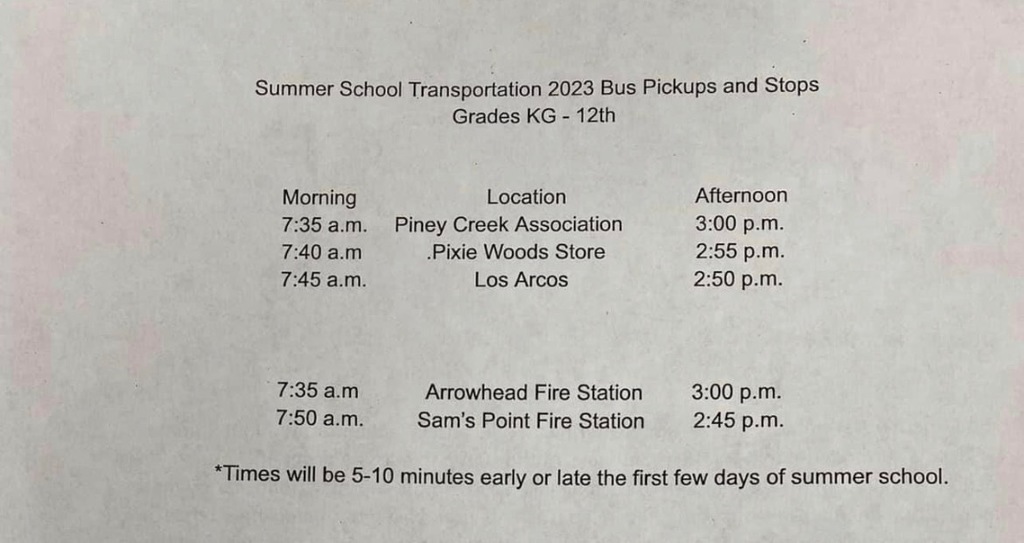 Parents and Student Athletes They are giving FREE sports and band Physicals at the southeast Expo Center on May 16th from 5:30-8pm. The school will be providing transportation to and from the Expo. The bus will leave the school at 5:pm and will return at 7:30 to 8:30pm. We encourage all our athletes to take advantage of this opportunity. All athletes must have parent consent forms signed to get their physicals that day. The school will provide all the forms you will need.

Seniors: There is a mandatory graduation practice in the gym Thursday, May 11th, at 12:30.

Update on the wreck on highway 9. We have been informed that it could be a substantial amount of time before the wreck is cleared. We will be rerouting Gary's and Jean's bus though Blocker and Quinton. We are working to get students home as soon and as safe as possible.

Parents and Guardians of our 5th & 6th grade students. Today's field trip has been cut short due to weather. They will return to the school between 3:30 and 4:00 this afternoon. Please be here to pick up your student. Thank you.

Sports Banquet: We will have an all sports banquet on Tuesday May 9th at 7pm. Dinner will be served and athlete's meals will be provided. All guest that plan to eat need to purchase a ticket through the front HS office by tomorrow May 4th. Cost is 10$

Baseball Info: The HS game scheduled at Central-Salisaw has been push up to 12 noon.

Baseball Info: The HS Game has been postponed another day. We will try again tomorrow at 1pm.

Baseball Info: Due to weather, the game today has been postponed again. It has been scheduled tomorrow for 1 pm at Central-Salisaw.

JH baseball info: Due to weather, the baseball game today in Savanna has be canceled.

Baseball info: Due to weather, today's game has been postponed to tomorrow at the same time and location. Central-Salisaw at 1 pm.

Baseball Info: HS baseball game today at 4:00. Quinton will not be bringing their JH so the JH game has been canceled.

Baseball Info: Today's game has been switched. The HS game will start at 4 and the JH game will follow.

Reminder: No school on Friday the 7th or Monday the the 10th.

Baseball Info: Pittsburg has canceled the HS game today. JH WILL play as scheduled at 4pm at home.

Revised Baseball Bracket.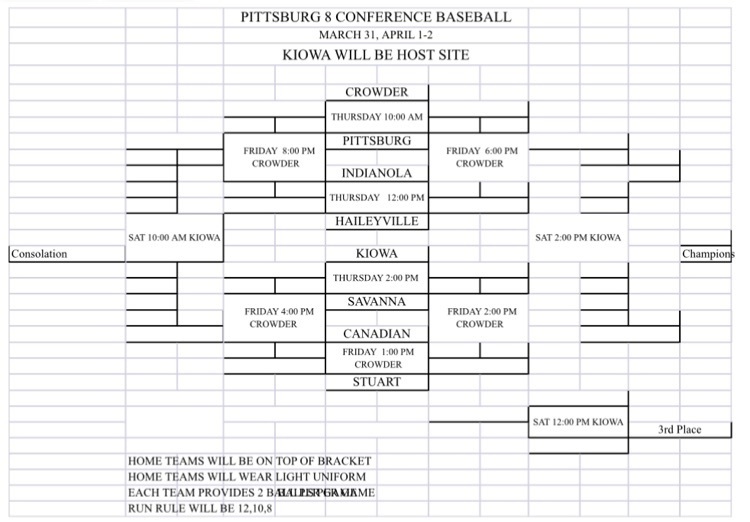 The HS game for today at Kiowa has been moved to Crowder with game time moved back to 1:00 pm . We will post a revised bracket as soon as we get it .

Baseball info: HS game at Kiowa scheduled for 4:00 could start up to 30-40 min early due to expected rain moving in .

At 6:00 PM on Monday, April 3rd in Coach Leitheads Room, (HS Science)there will be a football parent meeting for students interested in playing JH and HS football next year (6th-11th grade). The meeting will discuss HS spring football and Summer Pride.