Canadian will be Distance Learning Tuesday January 31st.

Tonight's game at Pittsburg has been postponed to Saturday February 4th at Pittsburg at 2pm. Go Cougars!

The Pittsburg County Emergency Management has advised us they are expecting freezing sleet around 2pm.  Due to the weather forecast and the safety of our students and staff Canadian Public School will be dismissing class and buses will run at noon. We will be transitioning to distance learning for the remainder of day. If you would like to pick up your child prior to buses being released, please feel free to do so.  If other arrangements need to be made please contact the office ASAP at 918-339-2705.  Tonight's HS basketball games are canceled.

Canadian will be in session today with the possibility of an early release if needed. The safety of our students and staff is top priority. We will continue to keep a close watch on the weather and will update as soon as possible with any changes.

There will be no before or after school tutoring in the elementary this week.

Cougars, We will have school Monday, 1-30-23, unless inclement weather moves in overnight causing travel concerns. We will monitor the weather throughout the day Monday and will make decisions as the situation continues to develop. An early release is a possibility. We know the importance of having students in the classroom, but we will always put the safety of our students and staff first. We will continue to keep a close watch on the weather and will update as soon as possible with any changes.

Due to the chance of inclement weather, tomorrow's game at Pittsburg has been moved up. Girls will play at 4 pm and boys will follow. The will be NO JH games. Go Cougars!

Due to the possibility of inclement weather Canadian Public Schools will be in distance learning tomorrow Jan 25. Assignments have been posted to Google classrooms and paper assignments have been handed out to those without proper technology. Classes will resume as normal on Thursday Jan 26. HS basketball games at Pittsburg for tonight have been rescheduled for Jan 30.

There will be no Elementary after school tutoring today January 24th.

Just a reminder to all kindergarten - 2nd grade students permission to play in the little dribblers game is due Friday January 27

Due to inclement weather, the 4-H meeting will be moved to Thursday, January 26th. Time: 3:45pm - 4:15pm Where: School Cafeteria

Cougars: Amber Hampton & Layton Fuqua, have been selected to play in the Eastern Oklahoma Band Directors' Association (EOBDA) honor band. Students from eighteen schools participated in the audition process. After the judging was concluded Layton was awarded First chair French Horn, and Amber was awarded Fourth chair Tuba. They will perform in a combined concert on February 4th in Stigler. Congratulations are on order for these two outstanding Canadian High School band students. Go Cougars!

From Mrs. Richmond: Canadian 4-H meeting January 24th, 2023 Time: 3:45pm - 4:15pm Will go over upcoming events

Little Dribblers.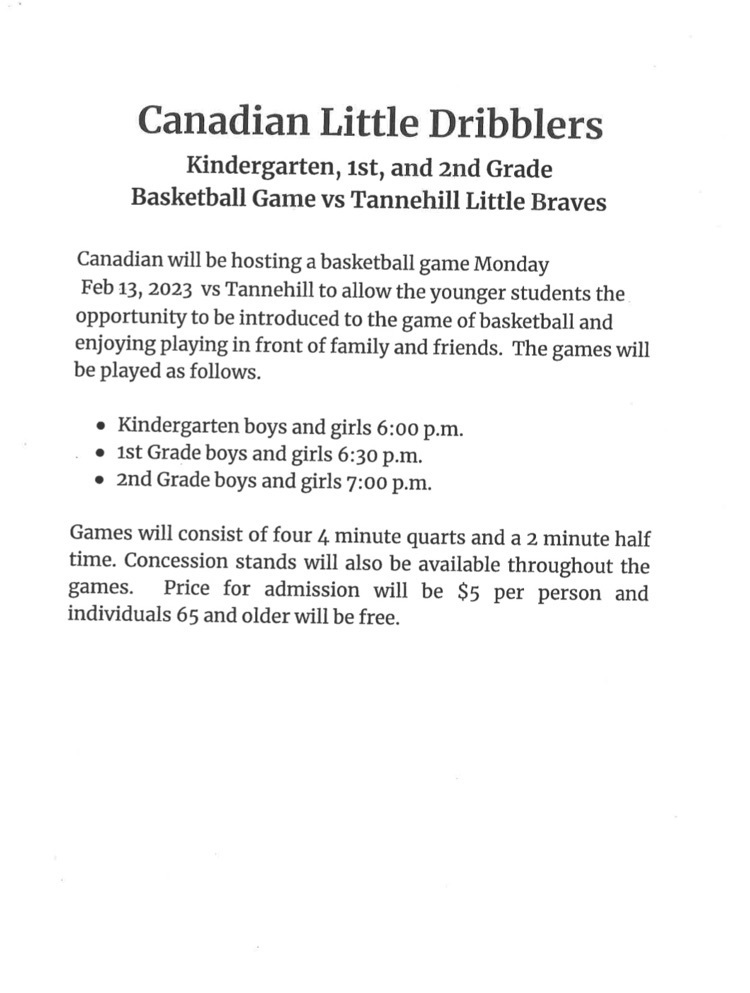 We are proud of our Lady Cougars. They fought hard in the championship game of the Weleetka tournament and played a close game to the very end. Go Cougars!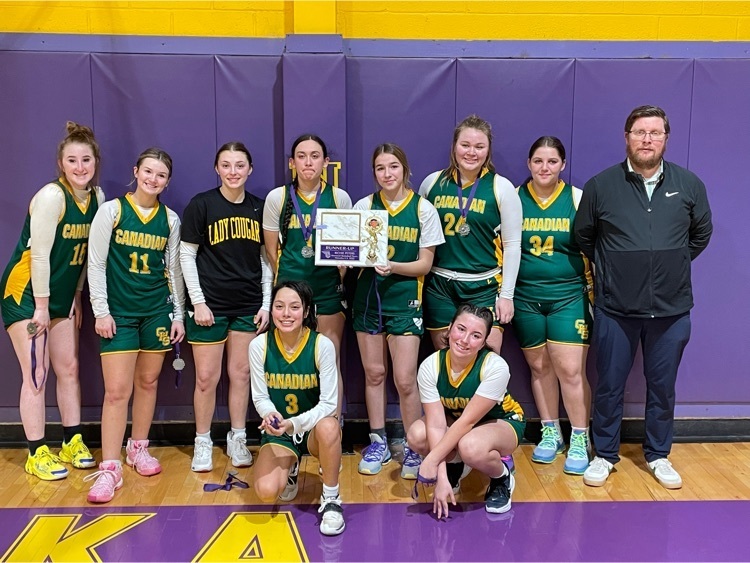 We are excited to announce that Senior Katie Woodruff has received her first college offer of the season. Taber College in Kansas is wanting our #25. Congrats Katie and we are excited to see what still awaits.

Canadian Families: Just a reminder, school releases at 1:30 tomorrow Dec 16th. Basketball games are at Porum tomorrow. JH girls play at 4 with boys following. HS girls play at 6:30 with boys following JH Basketball will leave at 2:30 and can stay after school with their coach.

Huge thanks the Choctaw Nation and their career development program. CHS has been awarded a robotics starter program kit valued at $2500.

If your child rides Gary Honeycut's bus in the Oak Ridge area, County Line Rd, and Kelso Rd it will be running about 15-20 minutes late this morning

HS basketball today in Porum: Boys play at 11:30 Girls play at 4:00 JV boys play at 5:30 Go Cougars!